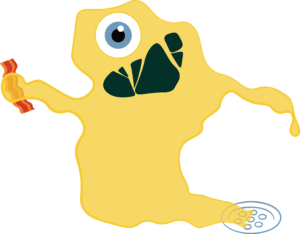 When fats, oils, and greases (FOG) go down the drain at home, they stick to pipes and harden to create blockages. Clogged and damaged pipes can lead to sewer overflows, where raw sewage can back up into your home, lawn, neighborhood, streets, and storm drains. This mess presents hazards not only to human health, but also to the health of Galveston Bay! Not to mention you'll have to deal with the smell of raw sewage lingering around your home for the holidays, ruining your appetite for those delicious dinner leftovers. That's gross, but then you also have to worry about the cost of calling a plumber, and do you know how expensive their holiday rates can be? When you pour grease down the drain, it puts money into the plumber's pocket.
This holiday season, keep that money in your wallet and save it for Christmas shopping. When you're cleaning up after your delicious holiday dinner, make sure you don't feed the Grease Monster. Here's what you can do to cease the grease and defend our drains and our Bay in your home:
Never dump any FOG down the drain
Place oil and grease in sealable collection containers
Recycle your used cooking oil at the nearest recycling station
Put the FOG that you do not recycle in the trash
Scrape all oil, grease, and sauces from your cookware and plates into the trash before rinsing and washing
Properly dispose of all food scraps by throwing them in the trash and not down the drain
Encourage your family, friends, and neighbors to Cease the Grease in their homes
For more information, visit ceasethegrease.net
Happy Holidays!