Please send any comments or questions about this tool to waterquality@galvbay.org.
---
Sponsors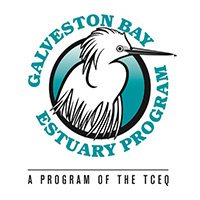 PREPARED IN COOPERATION WITH THE TEXAS COMMISSION ON ENVIRONMENTAL QUALITY AND U.S. ENVIRONMENTAL PROTECTION AGENCY. This project has been funded in part by the United States Environmental Protection Agency under assistance agreement Contract No. 582-14-43075 to Texas Commission on Environmental Quality.
---
THIS PROJECT HAS BEEN FUNDED IN PART BY A TEXAS COASTAL MANAGEMENT PROGRAM GRANT APPROVED BY THE TEXAS LAND COMMISSIONER PURSUANT TO NATIONAL OCEANIC AND ATMOSPHERIC ADMINISTRATION AWARD NO. NA15NOS4190162.